Athletic Equipment: 3 Tips For Getting
The Best Bang For Your Buck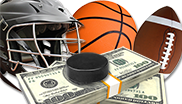 As an athletic trainer, you only have so much room in your budget to use on athletic equipment for your team. And those costs add up quickly.
$120 for a pair of cleats. $50 on a sweat-wicking shirt. $250 for a new, lighter lacrosse stick. The numbers just keep piling up until they become astronomical ... and that's just for one player! You need to outfit an entire squad.
The cost of athletic equipment may be daunting, so it's very important to make sure you're getting the best bang for your buck. How much do you spend on equipment and gear? Are you budgeting efficiently?
Here are three tricks to help you efficiently plan your equipment budget for the upcoming season.